Parent Testimonials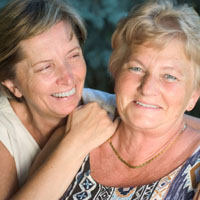 Dear Fort Collins New Life Center Staff,
This letter is my attempt at describing what it was like to have my sister as a heroin addict before and then after Fort Collins New Life Center. Although she's been sober and healthy for five years now, and it's hard to think back, this is my attempt.
First of all, my family has always been extremely close. We don't go a day or two without talking to someone on the phone and we've always called it the "grapevine" because we'll talk to our mom or dad, sisters, nieces, and they call someone and pass the info on and so on and by the end of the day everyone knows all about what's going on. We spent many years talking about our sister, who was using heroin & who knows what else. We'd watch her totally strung out, trying to sleep it off, wanting to quit, yet not being able. We watched her try to hold a great job, try to be "normal", we talked about intervention, checked out local AZ rehab options, talked about tough love and pushing her out, yet the love and hope that she would quit, plus not knowing really what to do, kept us on the emotional roller coaster. She was what I called a "functional addict." She held a job, came to family functions, and yet no one trusted her. I couldn't even trust her to leave her with my infant twin boys. How sad is that? A sister that used to be my rock, I couldn't stand to be around. She made me sick, sad and angry. When I needed her, she was gone, maybe not physically, but she was not my sister anymore, as drugs, lying and manipulating were her best friend, and only focus.
With that being said, my sister just disappeared one day. No calls, no signs, no reason. We "lost" her for 4 years. We did not know if she was dead, alive, in trouble, on the street or what. Our family pooled our money to hire Private Investigators to find her, no luck. We drove to La Jolla & San Diego many times to search ourselves, no luck. We made & distributed fliers. I spent hours online searching Missing Persons databases, unknown dead people databases, called area hospitals for unknown patients, and calling local law enforcement agencies, no luck. I will never forget the sickness in my stomach as I looked at unknown dead people online, called and hoped. Hoping for answers, but hoping I wouldn't find the bad answer.
Finally, after 4 years, we got a call that she was arrested for drugs and it was the happiest moment of our lives. Prior to her trial, we researched and called many, many rehab facilities, but we kept going back to Fort Collins New Life Center. There are so many facilities; so many that say they are the best, they work, etc. We finally chose Fort Collins New Life Center, due to their philosophies, staff, and track record of success. We liked that a student doesn't just complete the program and they say, "Your clean, good luck, see ya". Fort Collins New Life Center offered the steps beyond that; the former addict can stay and work there, they can come back for more help, etc. Fort Collins New Life Center offered a different way of dealing with an addiction. They don't just use the standard 12 step procedure that so many do. They tackle the deep down reasons; they get to the heart of the person and all through proven methods. We pooled our money again, and as part of her release agreement, my sister was sent directly to the Fort Collins New Life Center program.
The rest is beautiful history. It has been five years now, she is not only healthy, beautiful, and my sister again, she is more than that. She recently married a fantastic man, and they are both such positive and energetic forces for us. I turn to her for her strength, support, and advice again. She is the big sister I've longed for so many years. Her attitude and energy is contagious. She is my rock. She is the family rock.
Fort Collins New Life Center worked for my sister. It worked for our entire family. We are whole again and the grapevine is back in full force.
Lisa W.
---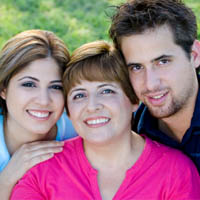 Dear Fort Collins New Life Center,
I have come to see that any family member with an addiction definitely has an impact on the entire family, pets included. Matthew was always a very outgoing, fun, thoughtful kid. I will never forget a vacation our family took to Cancun. Matt was still very young at the time, but he had no problem fitting in and talking to the college kids on spring break. Yet, when he was eight years old Matt, his father, and I were in a near-fatal car accident caused by a drunk driver. This accident put me in a coma for a month and left me handicapped to this day. I was later told that when the paramedics and ambulance personnel arrived at the scene they went to go help Matt in the back seat, with his leg bone sticking out of his skin, he replied "I'm okay, help my mommy." He knew I was unresponsive.
As a teenager, Matt became involved with drugs. The last year of my mother's life is when we first became aware of his problem. My mom would call me everyday, a few times, and I would cut her short due to the fact that I would be upset about Matt and didn't want my sick mother to know what was going on. I feel what should have been my most precious moments with my mother were stolen by Matt's addiction.
Then when someone you trust and love starts stealing from you, it really breaks your heart. Matt stole from his father's business, from his sister, and from me. When you have to start hiding stuff in your own house you really feel violated. Do you know what it is like to find stuff missing from your house? Items that had irreplaceable sentiment value were pawned away. The Italian gold jewelry given to the family by my parents, Christmas gifts Matt had received from the family, his four-wheeler, and the list goes on, all pawned. Some of the items were never recouped.
Not to mention all the sleepless nights wondering if he was dead or alive. We tried reasoning with him, tough love, crying, no matter what we said or did he would look at us with no expression on his face. It was like talking to a brick wall. As a last resort we tried kicking him out a few times. This caused friction between his father and I. To this day, I am surprised we did not get a divorce. Even at the worse points, I felt kicking him out was not the answer. His sister disagreed with our habit of kicking Matt out and only to take him back a few days later. He played up the divisions in our family. He always knew the right things to say. Towards the end, before he went to Fort Collins New Life Center, his sister let him stay at her house a few times. No one in the family knew what to do with him.
I cannot begin to tell you of all the nerve-wrecking nights Matt wouldn't be home by curfew. We would call him. His response would be, "I'll be home in 20 minutes." This cycle would go on all night until he finally showed up hours later. We would ask him questions, getting loud at times. Our poor dog would go upstairs into the bedrooms, frightened to death by the arguing, and scratch the doors or walls. Of course, each time she caused damage led to more arguing. Matt's sister was so desperate she went online one night and found Fort Collins New Life Center. After reading about the program's success and speaking with a graduate, she relayed the information to my husband and me.
Fort Collins New Life Center - thank you, thank you, thank you, for saving my son's life. Fort Collins New Life Center was not the first rehab facility Matt has been to. He was in rehabs in Connecticut, twice in New York, and in Pennsylvania. Each time it seemed like he was doing well. Then he would return home and the problems would start all over again.
We are so grateful! We were not ready to give up on Matt! He is still my baby! If it wasn't for Fort Collins New Life Center Matt wouldn't be the outgoing, fun, thoughtful person he was meant to be. In fact, I wouldn't be here writing this success story. Who knows where our family would be without Fort Collins New Life Center. Again, thank you so much. I am forever grateful.
Sincerely,
Lisa K.
---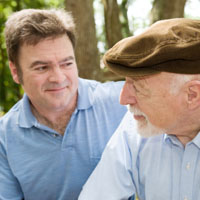 To all the staff at Fort Collins New Life Center,
I would like to take this opportunity to thank you for giving me back my son, Spencer.
Through the years, I felt like the real Spencer had become hidden behind a smoke screen of heavy drinking and partying. I researched many of the programs before choosing FORT COLLINS NEW LIFE CENTER and I knew that this was the best one for my son since it used healthy resources and integrated life skills into the overall recovery process. By addressing the overall person and using healthy substitutes, a confidence is instilled that allows the graduate to control both actions and addictions throughout life.
The changes in Spence are amazing and it is as if he has a new lease on life and realizes that every moment is precious. Prior to the program, he seemed to be self-absorbed and not interested in his relationship with me or other family members. Now he has an open line of communication with me and others in the family and he regularly expresses thankfulness for the program and its collaborative nature.
Prior to the program, I worried constantly about what was going on with Spence since he was extremely secretive and self-absorbed. Before this program, Spence was sneaky and consistently made bad choices while misleading so many people in his life. Now he is forthright, a man of his word and is honest with himself and others. Prior to the program, Spence's priorities were conflicting in that his hard work would be compromised by his foolish behavior. Now his decisions are based on sound rationale that is of a continuous nature and good for both his health and spirit. He was in denial about the influence that alcohol had on every phase of his life and didn't want to discuss it. Now he has used the information and personal strength he has gained from this program as a tools in enhancing his life journey.
I feel a love connection with Spence now that it is all inclusive and a genuine family connection that is based on mutual respect and admiration. The changes in Spence are hard to put into words because it all sounds so trivial compared to all the warmth, and admirable qualities that are now a part of Spence's overall being!!
Thanks, to all of the dedicated staff at Fort Collins New Life Center.
Frances C.